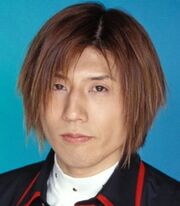 Hideki Ogihara
(荻原 秀樹 Ogihara Hideki, born November 29, 1972) is a Japanese voice actor from Tokyo, Japan. He is affiliated with T's Factory. Hideki voices
Chariot
and
Tower
in
Magical Drop F
.
Other Voice roles
Edit
Gravitation as Maa-kun
Mahoromatic: Automatic Maiden as Toshiya Hamaguchi
Mahoromatic: Something More Beautiful as Toshiya Hamaguchi
Weiß Kreuz Glühen as Kyou Aguri
Kikou Sen'nyo Rouran as Byakuen
Shadow Star as Kura (ep 1)
This Ugly Yet Beautiful World as Daijirou Matsumura
Izumo: Takeki Tsurugi no Senki as Yagi Takeru
Major 2nd season as Yoshitaka Yamane
Play Ball as Konno
Shuffle! as Itsuki Midoriba
Lemon Angel Project as Ryouta Kogure
Lovedol ~Lovely Idol~ as Tomohiro Fujisawa
Soul Link as Ryota Aizawa
Major 3rd season as Yoshitaka Yamane
Shuffle! Memories as Itsuki Midoriba
Kimi ga Aruji de Shitsuji ga Ore de as Non-possessed believer (ep 9)
Major 4th season as Yoshitaka Yamane
Mahoromatic: Tadaima Okaeri as Toshiya Hamaguchi
Major 5th season as Yoshitaka Yamane
Oniichan no Koto Nanka Zenzen Suki Janain Dakara ne!! as Shūji Takanashi
Oretachi ni Tsubasa wa Nai as Kazuma Morisato
Ano Natsu de Matteru as Tetsurō Ishigaki[1]
Medaka no Gakkō as Bingo Nonoguchi
Natsuiro no Sunadokei as Koutarou Makimura
Shuffle! as Itsuki Midoriba
Noiseman Sound Insect as Tobio
Ad blocker interference detected!
Wikia is a free-to-use site that makes money from advertising. We have a modified experience for viewers using ad blockers

Wikia is not accessible if you've made further modifications. Remove the custom ad blocker rule(s) and the page will load as expected.