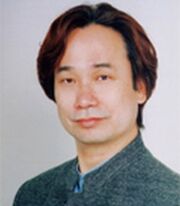 Ken Yamaguchi (山口 健 Yamaguchi Ken, March 24, 1956 - October 24, 2011) was a Japanese voice actor. He was represented by OYS Produce.
He was most known for the roles of Ashuraman, The Omegaman, Prisman (Kinnikuman: Scramble for the Throne), Genji Togashi (Sakigake!! Otokojuku), Flazzard (Dragon Quest: Dai's Great Adventure), Tarantula Arachne (Saint Seiya), and Ein (Fist of the North Star). Yamaguchi died on October 24, 2011, due to illness. Ken did voices for Hanged Man and Strength in Magical Drop F.
Other voice roles
Edit
Kinnikuman: Scramble for the Throne (Ashuraman, Prisman, The Omegaman)
Sgt. Frog (Merosu Seijin)
Yaiba (Snakeman)
La Blue Girl (King Seikima)
Konjiki no Gash Bell!! (Hosokawa, Nakata-sensei)
Sakigake!! Otokojuku (Genji Togashi)
Fist of the North Star 2 (Ein)
Adventure Kid (Officer)
Saint Seiya (Black Dragon, Tarantula Arachne)
The Transformers 2010 (Blurr)
Tatakae!! Ramenman (Ryuuseiken Hogan)
Digimon Savers (MetalPhantomon)
Urotsukidoji III: Return of the overfiend (Münchhausen II)
Dragon Quest: Dai's Great Adventure (Flazzard)
Dragon Ball Z (Blueberry)
Violence Jack (Aids, Gokumon)
Sonic X (Decoe, Nelson Thorndyke)
Dragon Ball GT (Si Xing Long)
Himitsu no Akko-chan (3rd series) (Papa)
Yokoyama Mitsuteru Sangokushi (Pang Tong)
Last Exile (Walker, Greyhound)
Lemon Angel Project (Danny Yamaguchi)
Machine Robo: Battle Hackers (Gakurandar)
Marmalade Boy (Takuji Kijima)
Melody of Oblivion (Child Dragon)
Miracle Girls (Shinichirou Kageura)
Black Lagoon (Ibraha)
Legend of the Galactic Heroes (Vargenzile)
Street Fighter Zero: The Animation (Gouken)
Tokusatsu Edit
Choujin Sentai Jetman (Sojiki Jigen)
Ad blocker interference detected!
Wikia is a free-to-use site that makes money from advertising. We have a modified experience for viewers using ad blockers

Wikia is not accessible if you've made further modifications. Remove the custom ad blocker rule(s) and the page will load as expected.