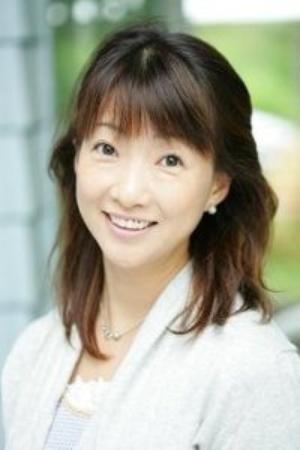 Naoko Matsui (松井 菜桜子 Matsui Naoko, born Naoko Ogawa (小川 菜桜子 Ogawa Naoko), April 4, 1961) is a Japanese voice actress from Hakodate. Matsui was a member of Production Baobab for 20 years before becoming a freelancer. She is also a voice acting instructor.
Matsui is most notable for the roles of Uru Chie in High School! Kimengumi, Rem Ayanokōji in Dream Hunter Rem, Katsumi Liqueur in Silent Möbius, Chiyoko Wato in The Three-Eyed One, Run Run in Mahōjin Guru Guru, Roux Louka in Mobile Suit Gundam ZZ, Dorothy Catalonia in Mobile Suit Gundam Wing, Azusa Shiratori in Ranma ½, Miyako Todaji in Kamikaze Kaito Jeanne and Sonoko Suzuki in Case Closed.
In Magical Drop F, she did voices for Devil and Wheel of Fortune.
Other Voice Roles
Edit
Air Gear - Noyamano Rika
Ranma ½ - Azusa Shiratori, Yotaro
Compiler - Compiler
Case Closed - Sonoko Suzuki
Death Note - Naomi Misora
Devil Hunter Yohko - Reiko
Doraemon (2005~) - Sumire Hoshino
Dream Hunter Rem - Rem Ayanokōji
Gall Force Eternal Story - Rabby
Gregory Horror Show - Lost Doll
Mobile Suit Gundam 0083: Stardust Memory - Lucette Audevie
Mobile Suit Gundam ZZ - Roux Louka
Mobile Suit Gundam Wing - Dorothy Catalonia
Naruto - Yoshino Nara
NG Knight Lamune & 40 - Resuka / Cafe au Lait
Silent Möbius - Katsumi Liqueur
High School! Kimengumi - Uru Chie
Itazura Na Kiss - Machiko Irie (Naoki's Mother)
Martian Successor Nadesico - Inez Fressange
Kekkaishi - Princess
Kimagure Orange Road - Akane
Kamikaze Kaito Jeanne - Miyako Todaiji
Kirarin Revolution - Chairman Higashiyama
The Adventures of Peter Pan - Wendy Darling
Robin Hood no Daiboken - Marian Lancaster
The Three-Eyed One - Chiyoko Wato
Yu-Gi-Oh! Duel Monsters GX - Ran Kochō
Gankutsuou: The Count of Monte Cristo - Victoria de Danglars
Mahoujin Guru Guru - Run Run
D.C. ~Da Capo~ - Koyomi Shirakawa
Zatch Bell! - Patie (Penny in English Version)
Futari wa Pretty Cure Splash Star - Mizu Shitataare
Gift ~eternal rainbow~ - Nene Himekura
Attacker You! - Nami Hayase
Windaria - Princess Ahnas
Riding Bean - Rally Vincent
Dubbing roles Edit
Totally Spies - Sam
101 Dalmatians: The Series - Spot
Chip 'n Dale Rescue Rangers - Gadget Hackwrench (new edition)
Stressed Eric - Liz Feeble
Jang Geum's Dream - Dr. Mrs. Hae Ya
Melrose Place - Alison Parker (Courtney Thorne-Smith)
Frasier - Daphne Moon (Jane Leeves)
Ghost - Molly Jensen (Demi Moore)
French Kiss - Kate (Meg Ryan)
Night of the Living Dead - Judy (Katie Finneran)
A League of Their Own - Ellen Sue Gotlander (Freddie Simpson)
Agent Red - Linda Christian (Meilani Paul)
The Birdcage - Barbara Keeley (Calista Flockhart)
Monkeybone - Miss Kitty (Rose McGowan)
Burn Hollywood Burn - Michelle Rafferty (Leslie Stefanson)
The Dark Crystal - (Kira)
Ad blocker interference detected!
Wikia is a free-to-use site that makes money from advertising. We have a modified experience for viewers using ad blockers

Wikia is not accessible if you've made further modifications. Remove the custom ad blocker rule(s) and the page will load as expected.